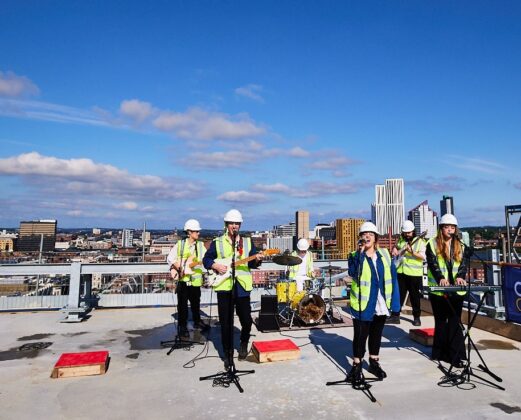 Our Leeds neighbourhood topped out when it officially reached level 16 this month. There was only one way to celebrate the rocking milestone – a live performance from local band Talkboy!
Playing at the highest point of New York Square, the band from Leeds Conservatoire played 51 metres over Leeds and cemented a pair of drumsticks into the top of the building to mark the occasion.
The band was joined by Johnny Caddick and Paul Caddick, as well as Leeds Metro Mayor Tracey Brabin, Leeds City Council leader James Lewis the Leeds Enterprise Partnership's Sir Roger March OBE.
Construction of our largest neighbourhood to date started 19 months ago and remained on track throughout construction despite the Covid-19 pandemic.
Johnny Caddick, our Chief Executive said: "Our focus is on delivering best-in-class institutional-grade design coupled with market leading customer service. High quality homes will be accompanied by state-of-the-art amenities designed with tech and wellbeing intrinsic to the offer. Coupled with new commercial occupiers from coffee shops through to local independents, this area will soon be animated throughout the day with people who don't just work and play here but also call it home.
As a build to rent operator, our aim is to create long-term communities, knitting ourselves into the fabric of areas we're in.
Thanks for reading our post. For more information and updates, visit ModaLiving.com